My kids are really enjoying all of the classic Disney films being digitally remastered and released through the Walt Disney Signature Collection. This week, we celebrate
Lady and the Tramp
, one that my husband and I both remember seeing in the theater when we were young children!
Now available on Blu-Ray and digital formats, the timeless film contains so many bonus features and displays beautifully on the big screen! The Signature Collection edition has three ways to enjoy: the original theatrical version, sing-along mode and Walt's story meetings!
This amazing love story was instantly something that all of my children adored. From the little ones (who just love puppies), to the older ones (who are studying animation and were taken aback by the level of artistry this film displays), everyone has fond memories developing for this classic and treasured tale. Who can forget one of the most memorable movie moments of all time—the iconic scene in which Lady and Tramp share a plate of spaghetti and an accidental kiss?
Featured bonuses include:
• Walt & His Dogs – Through archival recordings and photos, hear the tales of the dogs Walt Disney owned and loved over his lifetime.
• Stories from Walt's Office – Take a tour of Walt's office suite on the Studio lot, carefully re-created to look just as it did when he occupied it.
• How to Make a Meatball and Other Fun Facts About "Lady and The Tramp" – Watch a delicious lesson on how to make perfect meatballs with teen chef Amber Kelley and Oh My Disney Show Host Alexys Gabrielle.
There are also many deleted scenes, including:
• Introduction of Boris – Tramp wasn't always meant to be Lady's only suitor. Meet Boris the aristocrat and Homer the peasant in this deleted scene.
• Waiting for Baby – Lady watches as Jim Dear plans out his new son's future in this early storyboard.
• Dog Show – See the storyboards for this deleted scene in which Lady and Tramp unexpectedly find themselves in the middle of a dog show.
To help you get into the mood of "amore", we have some fun activities to share with you!
First, check out this adorable clip of how Walt Disney picked out "Lady".
And some fun for the kids: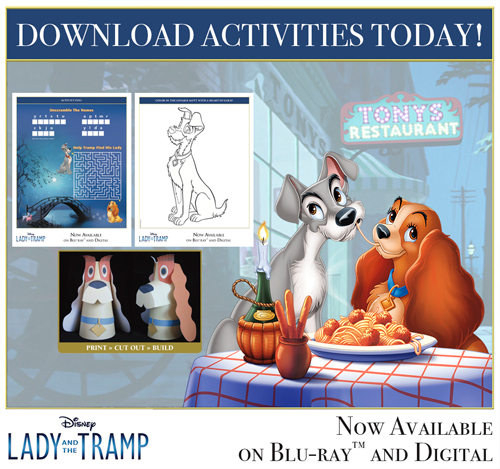 Snag the movie where your favorite Disney movies are sold!
Like this? Sign up for our weekly newsletter and get more of the goodness, plus exclusive giveaway offers!