We have just watched our new favorite movie, Illumination animated
Dr. Seuss' The Grinch
, now available on 4K Ultra HD, Blu-ray, DVD & Digital!. While you may think of this film as a Christmas movie, its redemptive message of love and personal growth is one that will resonate year-round.
That's why I'm personally thrilled to see some fun Valentine's Day activities coming out of the movie release, including this super delicious recipe!
What do Valentines want? Cookie Cakes of course! Win over even the grinchiest of hearts with this yummy Heart Cookie Cake from Dr. Seuss' The Grinch! If you don't have a Valentine, you'll need the sweets! Download the instructions here:
http://bit.ly/GrinchCookieCakeInstructions
Still need ideas? Want to really impress your Valentine this year? Whip up a DIY Valentine Envelope and some Grinch Garland. I mean, that is if you actually have a Valentine. Hahaha! Download the instructions here:
http://bit.ly/GrinchEnvelopeGarland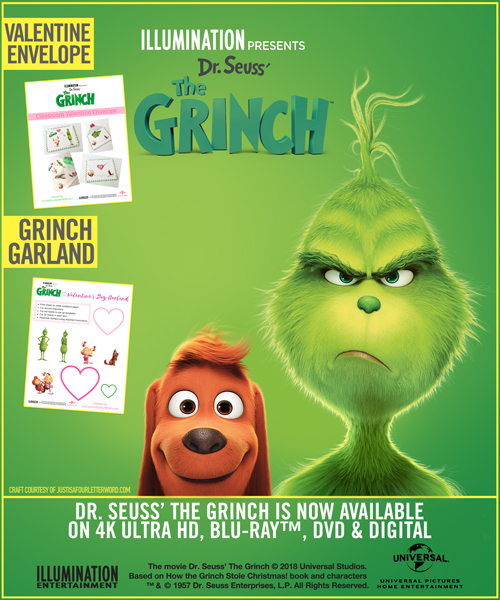 This film comes with LOTS of extra goodies, especially on the Blu-Ray combo pack version. You'll get the following:
BONUS FEATURES EXCLUSIVE TO 4K ULTRA HD, 3D BLU-RAYTM, BLU-RAYTMAND DVD:
Who's Who in Who-ville (interactive map) - There are so many interesting characters that call Who-ville home that it's hard to keep track of them all. This "Who's Who" pop-up book uses animation to create a virtual storybook that takes us from Who-ville to Mt. Crumpit.
"You're A Mean One, Mr. Grinch" Lyric Video – Tyler, The Creator puts a modern spin on the Seussian Christmas classic.
MINI-MOVIES ON 4K ULTRA HD, 3D BLU-RAYTM, BLU-RAY TM, DVD & DIGITAL:
Yellow is the New Black – Before they all make their big escape from prison in Despicable Me 3, a couple of lucky Minions get a taste of freedom as they break free with the help of one of their fellow human inmates.
Dog Days of Winter – Max braves the harsh winter weather and an uncooperative Who to bring a sick Grinch his favorite hot tea.
Santa's Little Helpers – Fan favorites – the Minions – are back for another adventure! Having been accidently dropped off at the North Pole, our Minion pals make the most of the situation by trying to become elves.
BONUS FEATURES ON 4K ULTRA HD, 3D BLU-RAYTM, BLU-RAY TM, DVD & DIGITAL:
The Making of the Mini-Movies - Mini in size but not in heart, these short films are fan favorites. From the Grinch and Max to the Minions – you'll explore the themes of each of the mini-movies through the eyes of the filmmakers who made them.
From Green to Screen - It takes a lot to bring grumpy green to your home screen. This inside look at the making of Illumination's Dr. Seuss's The Grinch features interviews and behind-the-scenes moments with the cast, filmmakers and artists whose hearts have all grown three sizes bringing this classic tale to life.
Illuminating THE GRINCH - Using filmmaker and cast interviews, concept art and progression reels, we take a behind-the-scenes look at how the characters evolved from initial sketches to fully realized characters.
My Earliest GRINCH Memories - The cast and filmmakers of Dr. Seuss's The Grinchreveal their earliest memories of the grumpy green character and the enduring appeal of this Christmas curmudgeon's journey to redemption.
Grinchy Gadgets - From his body-size blow dryer to his moving mechanical chair, from his catapult to his dog drone-rig and more… you'll get to explore the wondrous world of Grinch's gadgets.
"I Am The Grinch" Lyric Video - A stylized look at Tyler, The Creator's original song created just for the film.
Songs From His Little Heart - Take a deep dive into the toe tapping beats of Dr. Seuss's The Grinch. From score to specialty songs, you'll hear from the film's A-list musicians on what it took to create the music behind the movie.
X-mas Around the World - Every culture practices Christmas in a slightly different way. We'll highlight some of the more fun permutations of the holiday around the globe.
Cindy-Lou's Yule Log - Nothing says the holidays quite like an animated fireplace blasting fake heat from your living room television. Just in time for winter, we'll recreate Cindy-Lou's living room on Christmas Eve for all to enjoy.
Production Babies - A celebration of the babies born to the filmmakers during the production of Illumination's Dr. Seuss's The Grinch.
Any Who Can Draw - Hosted by an Illumination artist and head of story Mark O'Hare, you'll see step-by-step how to draw some of your favorite characters from this beloved holiday classic; Grinch, Max and Fred!
This movie is AMAZING. My kids loved it so much, and with the voice talent of Benedict Cumberbatch, Rashida Jones, Kenan Thompson, Cameron Seely, Angela Lansbury, and Pharrell Williams PLUS the musical genius of Danny Elfman with songs by Tyler, The Creator, it's pretty much going to be your family's next favorite year-round flick!
*Movie screener received to review. Opinions are my own.