Thank you Lionsgate and Petmate for sponsoring this Doggie Picnic!
The summer weather is here, and that means picnics and BBQ's and more family fun. We often eat outside (even on windy days like today,) and when we can, we like to invite our four-footed friends to join us.
We celebrated the release of Lionsgate's new family film THINK LIKE A DOG with our 6 and 9-year-old boys this week. In addition to screening this adorable new film, available on AppleTV beginning June 9th, we had some yummy treats for both people and pets.
The people enjoyed an assortment of cookies and lemonades, because who doesn't love cookies and lemonade?
The pups were treated to a variety of toys and treats from
Petmate
. My big pup, a 100+ pound Great Pyrenees couldn't get enough of the WonderSnaXX Peanut Butter & Apple Braids. The little guy, a rat terrier, was kept busy for a long time with his Twist-in Treat, which was like a puzzle for him to enjoy.
Later, we retreated to the living room to enjoy the film. What did my kids think of it? There are some very hilarious lines, so they mostly kept saying those to me throughout the day. (They also said them in dog voices, because in this movie, the dog has quite a speaking role.)
This film was a good pick for the end of a week, where we've been dealing with gardening, homeschool, and housework. Taking time to treat your human and kids is always a good idea, especially in these often stressful times.
THINK LIKE A DOG stars Megan Fox and Josh Duhamel, and offers a timely update to the classic trope of "human/animal switcheroo." In this movie, the boy and dog form a special connection, where they can hear each other's thoughts and work together to solve a really big problem! In addition to some adorable moments, likable characters, and funny pooch antics, families can talk about empathy, and what it's like to take care of animals -- and each other. For those who have seen films with similar themes, they'll enjoy seeing a fresh cast of characters and an updated premise.
Think Like a Dog premieres on AppleTV and everywhere you buy movies June 9!
Catch the trailer here:
If you want to throw a picnic with your pups, I suggest getting them some treats like those we were gifted from Petmate. But you can also make your own dog-friendly pancakes like the ones below. They are super tasty, and humans can eat them, too!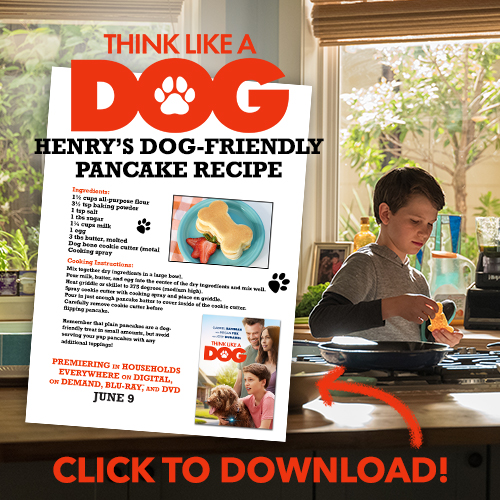 You can watch THINK LIKE A DOG on AppleTV and where movies are sold June 9th. Will you watch this adorable movie with your kids?
*Treats and compensation were received to share. Opinions are my own.